The store that caters to men and the things they like.
Wild About Harry combines the past and the present into a single, unforgettable shopping experience. Located on the historic Independence Square in Missouri, Wild About Harry is a nod to President Harry Truman while offering unique modern and stylish goods to men from all walks of life.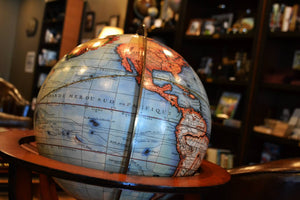 Office, Home, Self
What do you want in your life?
Whether the goal of visiting our store is to find the ideal gift for the men in you life, or to find something special for your personal office, we're confident that you will discover exactly what you need.
Our store focuses on specialty products, crafted in small batches, and made in the USA - often locally in the Kansas City area. This handmade aspect allows each item to be given the time and care that it deserves - resulting in products you can be proud to purchase.
Our assortment of leather goods, pens, and candles will be the perfect part of your space, while our collection of​ briefcases, hats, wallets and more keep your look  timeless. Meanwhile our selection of personal care items will leave you feeling refreshed and looking like the snazzy gent that you are.
We hope you enjoy your time on our site and look forward to wrapping up your next purchase with care. If you ever find yourself in our neck of the woods, be sure to visit!
What Our Customers Are Saying
When you can't figure out what to get that brother, son, father, husband, etc. for a gift, this is where you want to go.
Unique, high-quality items and friendly, helpful staff. It's nice to find a store like this geared largely toward men.
A must stop when looking for that unique men's gift or accessory.